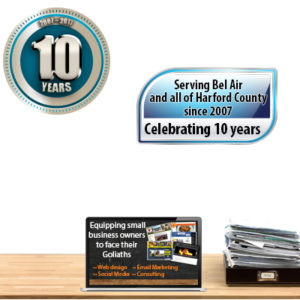 This month marks the 10th anniversary of ESG Graphics offering Bel Air web design services.
When ESG Graphics started, I offered web design services to small companies and non-profits in Bel Air. I had no idea what the future would hold.
Thanks to the many clients and business partners, scores of businesses and non-profits have been helped over these past ten years. Click to view our web design portfolio.
When I started ESG Graphics, Bel Air and the surrounding area of Harford County did not have many choices when it came to who would help a small business with web design services. In the subsequent years, web design companies and freelancers have come and gone, but ESG Graphics has grown. What was once a side business, has, in the last four and a half years, become a full-time business.
Mission and Services
Our mission of "Equipping small business owners to face their Goliaths online" has lead us to move into other areas of service. In addition to helping small business owners establish their businesses online through web design services, we also help them establish and set up email marketing and help them to identify their ideal client or customer.
This new approach was written about in the blog post entitled "4 Critical Online Assets Your Business Needs."
We look forward to serving Bel Air, Harford County, and the of the small business world in the months and years to come.