I first heard about Ray Edwards last summer. He was going to be a speaker at Jeff Goins' Tribe Conference in September which I was attending.
If you are a blogger, consultant, coach, Internet Marketer, Social Media expert, "Platform Builder" or small business owner, I'll share with you my three reasons why you should be following Ray Edwards.
Insightful Weekly Podcast
In the summer of 2016, I started listening to Ray's podcasts which blends humor, movies quotes, and great content.
I was so impressed with his content that I purchased and read his most recent book "How to Write Copy That Sells: The Step-By-Step System for More Sales, to More Customers, More Often". I was able to read this book over the course of a weekend. Taking notes and putting into practice required another reading (or two).
In September, when I drove to Nashville TN from my home in Bel Air MD, I had about 12 hours each way to do nothing more than drive and listen to podcasts. With more than 20 of his most recent podcasts, I started to listen to Ray and his son, Sean, talk about "How to Start, Run, and Grow Your Own Internet Based Business".
When you listen to more than 15 episodes of Ray's podcast in a span of 10 hours, you feel like you are friends. Ray does not talk down to you even though through the years, he has worked with some of the biggest names in leadership and business. You might know many of the New York Times bestselling authors he has worked with like Michael Hyatt, Jeff Walker, Jack Canfield and Mark Victor Hansen (Chicken Soup for the Soul) and Tony Robbins.
Now each week I look forward to hearing his new podcast. As a magnificent copywriter, he creates intriguing headlines that draw you in to find out what he has in store for us.
Helping To Become A P.A.S.T.O.R.
While both Ray Edwards and I are from a faith-based tradition, he is not talking about going into the Christian ministry as a pastor.
As Ray explains in his book,"How to Write Copy That Sells",a pastor originally was a shepherd. So using the shepherding analogy, Ray spells out a formula that helps us create better copy- better words on the page.
"P" is for PROBLEM
"A" is for AMPLIFY
"S" is for STORY and SOLUTION
"T" is for TRANSFORMATION and TESTIMONY
"O" is for OFFER
"R" is for RESPONSE
Ray's book and teaching show you how identify your prospect's or client's problem and amplify what will happen if they don't solve it. Then you share a story or solution to the problem. You then back it up with a transformation or testimony from someone you solved the problem for.
FREE Training Offered By Ray Edwards
The free training has ended. But Ray did tell us that it will be back in 2018.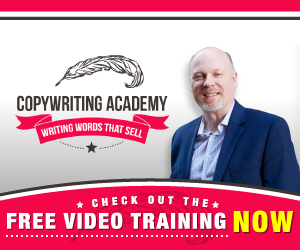 During the first half of March 2017, Ray will be offering some free training.
If you enjoy reading e-books, Ray is offering "The $2 Billion Sales Letter You've Never Heard Of".
If you prefer video content, Ray is offering "Why Marketing Fails And How To Fix It"
Ray continues his free trainining in video #2 "Why Every Business Needs A Sales Letter, And How To Write A Good One", and video #3, ""How to Use Your Great Sales Copy To Actually Make Money".
Just click on those links to start receiving training that can 10x your business.