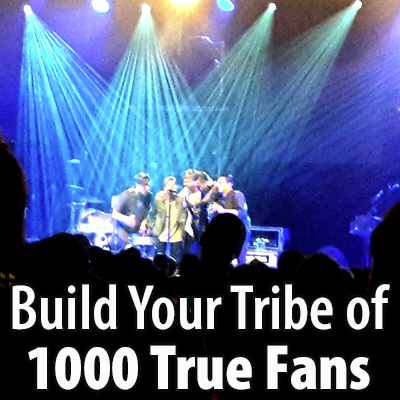 We live in a world that is easily offended. We are being taught that offending people is an unpardonable evil.
That mindset is just plain wrong. We need to be respectful.
That doesn't mean that you should go out of your way to offend people. What I mean is that you should NOT worry about offending people, but you should worry about ATTRACTING the right people to our business.
We need to be like a magnet. It draws some things to itself and repels (or offends) others.
A simple example of this drawing and repelling is if your Bel Air based business is selling Pittsburg Steeler merchandise, you are going to offend Baltimore Ravens fans.
The Rise of the 1000 True Fans
Kevin Kelly is the founding executive editor of Wired magazine and among other things, he is a writer.
In March 2008 he wrote an essay entitled "1000 True Fans" that put words to a relatively new phenomenon.
He stated:
"To be a successful creator you don't need millions. You don't need millions of dollars or millions of customers, millions of clients or millions of fans. To make a living as a craftsperson, photographer, musician, designer, author, animator, app maker, entrepreneur, or inventor you need only thousands of true fans." (Emphasis added. Source: http://kk.org/thetechnium/1000-true-fans/)
Kelly defines a true fan as someone that will buy anything you produce. If you can then get those 1000 fans to purchase $100 worth of your products in a year, you've earned $100k. A nice living if you can get it.
Build Your Tribe of 1000 True Fans
The time it takes to gather your fans will vary. Part of it is dependent on your message and also on your demographics.
If you are one in a million and there are 7 Billion people in the world, there should be about 7000 people just like you. You only need to find 1000 of them. If you work on gathering one fan per day, it will take you about two years and nine months to reach 1000.
But how do you develop these super fans? You need to have a direct relationship with them.
Connecting with Your True Fans
In order to have a direct relationship with your true fans, you need to connect with them. How do you do that?
The simplest way is in person.
You host or attend events where your fans or your tribe will be and you interact with them. You get to know their names and faces. They get to have a "meet and greet" with you, the rock star.
But this approach, doing it one on one, is time-consuming and not very practical.
Creating an online presence can help spread your message and allow you to talk "one to many" instead of one on one.
Your content is one thing that people want, the other is a connection.
So you can create social media presence on the platform of choice. You can engage your fans there. You can share your message and content there, but you are on someone else's platform.
Why You Should Build Your Own Platform
Being a star on YouTube can bring you lots of views and even celebrity status, but it's hard to connect.
If you were able to bring these fans over to your own platform, your own website, you could dialogue with them on your site or via an email.
If you put an email opt-in form on each page, that form could be customized to add them to a particular list with your email service provider.
These lists would help you identify the type of content you create that this person is interested in and therefore would interact with.
I'm a huge Star Wars fan and blog about Star Wars and my faith at TheChristianJedi.com.
My preference is the Original Trilogy. Others like the Sequels or the new movies (The Force Awakens and Rogue One).
If I write about Star Wars in general, the themes and characters, some will cross multiple movies. I could write a post on a certain character, for example, Chewbacca, and have an opt-in for a how you can connect with people who have a Meyers-Briggs type indicator like Chewbacca (ISTP).
This would let me connect with Star Wars fans that are Christians who like Chewbacca. That is a very tiny niche.
Once I know that information, I could talk with them via email and surveys about what type of products they like to have. I could even offer affiliate products to them (Amazon products or promote a contact where the winner gets to meet the man inside the Chewbacca costume, Peter Mayhew).
But I only know about these people because I've been creating content they want, the connection between Star Wars and Christianity, AND I also was able to connect with them because of our mutual respect for Chewbacca.
You can't get this type of information about specific people via Facebook or any other social media platform.
The Need to Produce Value
While true fans will buy your product regardless how good it is. As a huge Star Wars fan I will admit to going to see The Phantom Menace seven times in the theater (and for calling out sick the day it was released on VHS). I will also admit that the film ranks 7th in my list of all 7 episodes.
Most people I know, do not go to see Star Wars films multiple times nor do they buy the DVDs the day they come out. They are more casual fans.
Over time, if we do not produce value, even our true fans will begin to wane.
Most of us in the business arena are not trying to make a living as "a craftsperson, photographer, musician, designer, author, animator, app maker, entrepreneur, or inventor."
We are building a fan base around our business and its product and services.
What if we created a client base, or prospect list, of 1000 people?
Could we produce enough value for them that we didn't need to bring in more people?
What if your business is real estate?
The U.S. Census Bureau reports that the average American moves 12 times during their lifetime.
What could happen if in your 30-year career you helped a person move four times? That could easily lead to more than 4000 real estate transactions. If you made $4000 per transaction, that would be $16 MILLION or $533,333 per year over that 30-year span.
What if your business was HVAC? If your 1000 clients are moving as often as was mentioned above, they'd be moving into homes that would potentially need a new system. With a system being $5000 to $15000 depending on the size of the home, you could potentially be generating millions in new systems and hundreds of thousands in maintenance and repair.
You need to stay connected by providing value.
Conclusion
People will only stay with you if you produce value. What constitutes value will be different depending on your industry.
If you create value and continue to communicate with your fans, you clients, or your prospects, you can build a livelihood.
What are ways you can create value and began to build your tribe of 1000 true fans?